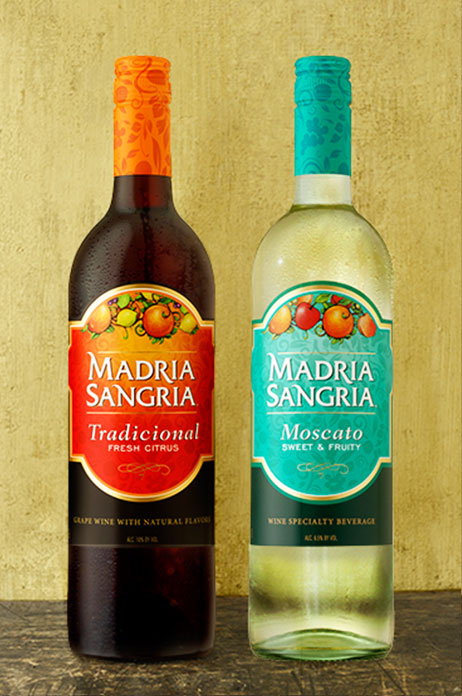 A Little History
Born from the easy, festive wine-punch recipes of Spain and Portugal, sangria has become a refreshing favorite, shared among good friends the world over. True to its laid-back origins, Madria Sangria removes all the guesswork and makes mixing this fruity concoction fun, easy and, most of all, delicious.
Madria Sangria is available in both our award-winning Tradicional and White Moscato. Both styles combine the sweet, refreshing characteristics of traditional sangria with an added flair that's all our own.
When it comes to sangria recipes, you really can't go wrong. The only mistake you can make when making sangria is worrying about how to make sangria. So feel free to follow our Madria Sangria recipes, embellish them liberally or ignore them completely and just toss a bottle in a pitcher with plenty of ice!
Tradicional
Our Madria Sangria Tradicional was inspired by the vibrant spirit of Madrid. Ruby red, infused with orange, lemon and lime, Madria Sangria Tradicional adds a lively citrus zing to any get-together. This traditional sangria recipe has won double gold and gold medals at competitions for its authentic Spanish taste. And it's now also available in convenient mini bottles.
Moscato
Our Madria Sangria Moscato was inspired by warm seaside summers. A delicious blend of Moscato wine with hints of orange, peach and apple, this white sangria has the right amount of sweetness and refreshment to enliven your summer cocktails. It pairs perfectly with fun, festive gatherings on warm summer nights—or chiller nights when you dream of delicious evenings to come.