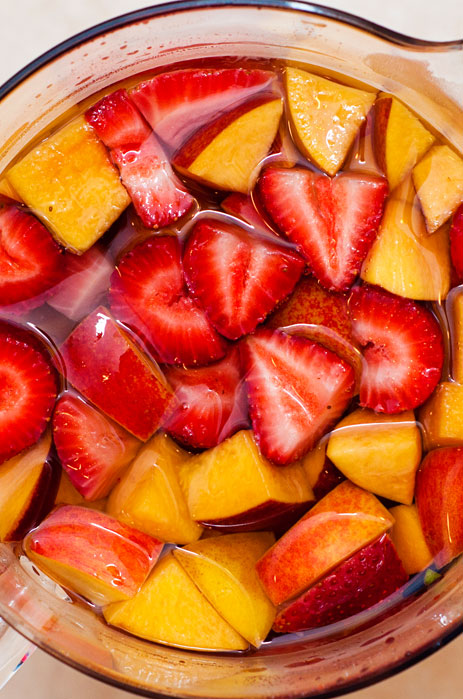 Georgia Sunset Sangria
Maybe you've got a veranda upon which to enjoy this peach- and strawberry-laced concoction. Maybe you don't even know what a veranda is. No matter. Just find some friends and a cool spot in the shade, and let this fruity sangria punch wash the heat away from even the longest of summer days.
Essential Ingredients
1 (750 mL) bottle of Madria Sangria Tradicional
3 peaches—try juggling them first, then slice them into chunks
Sliced strawberries—more than a cup but less than two
3 or 4 cups (two cans) of lemon-lime soda
Fruits to Add
If you have some extra oranges, lemons or limes, add those to the pitcher. You can't mess up this fun, fruity sangria recipe.
Experiment With
A couple of glugs of triple sec will amp up the orangey-ness.
A cup of peach liqueur will add some flavor.
Directions
Grab a great big pitcher, dump in the Madria Sangria Tradicional and the fruit and give it all a stir. Throw it in the fridge for a few hours, then, once the flavors have had a chance to mingle, mix in the lemon-lime soda, serve it to friends over ice, and let the day slip into night.
Total prep time: 15 minutes Georgia-style
Yield: About 4-6 yummy servings