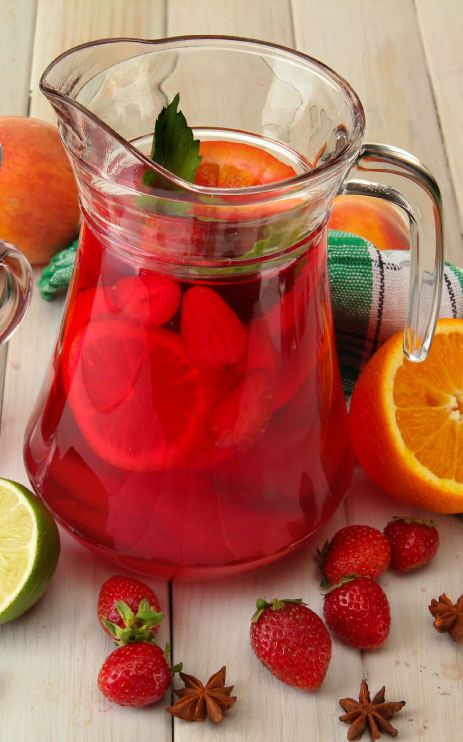 Sweetheart Strawberry Punch
Nothing accentuates the crisp refreshment of white sangria like the vivid color and sweetness of fresh, red summer strawberries. The tastes of strawberry, wine and sunshine over ice mingle as easily as old friends reunited.
Essential Ingredients
1 (750 mL) bottle of Madria Sangria Moscato
2 cups of sliced strawberries
Club soda
Ice cubes
Fruits to Add
You've already got the strawberries. Maybe add some oranges, peaches and blueberries for the Fourth of July! Be playful. Your sangria will appreciate it, and your guests will too.
Experiment With
Strawberry schnapps
(2 or 3 shots should do it)
A fistful of sugar
Directions
Pour the Madria Sangria Moscato into your favorite pitcher. If you like, add the schnapps and the sugar now, and give it all a good stir until the sugar dissolves. Then add the sliced strawberries, cover, and toss it in the fridge for a few hours to let the flavors mingle. Serve in glasses over ice. Splash a little club soda on top, and garnish with fresh strawberries.
Total prep time: Negligible.
Yield: About 4 servings.